Caroline (Carlie)
Baker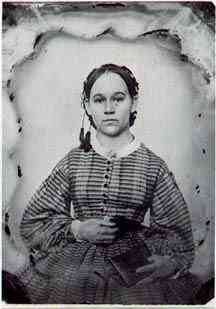 ---
CARLIE ON THE OLD FARM IN WISCONSIN
by Horace Baker
Up in the morning early
Just at the break of day
Straining the milk in the dairy
Turning the cows away
Sweeping the floor in the kitchen
Making the beds upstairs
Washing the breakfast dishes
Dusting the parlor chairs
Brushing crumbs from the pantry
Hunting the eggs in the barn
Cleaning the turnips for dinner
Spinning the stocking yarn
Spreading the Whitening linen
Down by the bushes below
Ransacking every meadow
Where the strawberries grow
Searching for "fixings" for Sunday
Churning the frozen cream
Rinsing the pails and strainers
Down by the running steam
Feeding the geese and turkeys
Making the pumpkin pies
Jogging the baby's cradle
Driving away the flies
Grace in every motion
Music in every turn
Beauty in form and feature
Thousands might covet to own
Cheeks that rival spring roses
Teeth the whitest of pearls
One of those country maids
is worth a score of your city girls.
The "Old Farm in Wisconsin " was in Vernon County.

---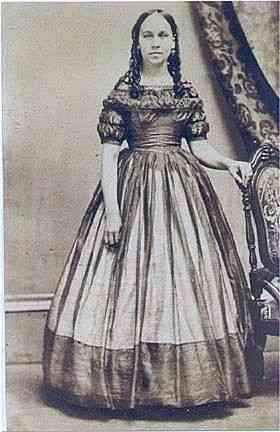 January 1st, 1865
Caroline Ophelia Meachum Baker ( Carlie)
Caroline Ophelia Meachum was Born April 26,1844 in Burlington, Wisconsin. Her father was Hilas Meachum. He was born January 28th, 1815 in Marathon, Courtland County, New York. He died March 4th, 1867 in Springfield, Wisconsin. Her mother was Mary Ann Sessions. She was born July 9th, 1817 in Tolland County, Connecticut. She died March 4th, 1897 in Weatherford, Parker County, Texas. Hilas and Mary Ann were married March 5th, 1836 in Broome County, New York.
Carlie and Horace began their acquaintance while Horace was acting as "general roustabout" at his mother's hotel at Springfield Station. He was sent to the Meachum's home by his mother to inquire about purchasing some chickens for hotel food. When he arrived, he couldn't help but notice the charming young daughter of Mary Ann and Hilas Meachum. Carlie and Horace became better acquainted and Horace checked on the Meachum's chicken supply regularly. Their relationship was just beginning to grow when the Civil War broke out. Horace volunteered with Company K of Eighth Wisconsin Infantry and left for duty. Carlie and Horace corresponded regularly. throughout the war, but It seems as if Carlie always kept a little distance, maybe because of the fear that he might not return, or maybe she was just playing hard to get, or both. At one point, Carlie stopped writing Horace, but Horace's mother (Caroline Eleanor Carey) wrote a letter to Carlie and quickly communication resumed between the two . After Horace's term was up, he and Carlie resumed their formal courtship and were married at Lyonsdale , Walworth County , Wisconsin on January 1st, 1865.
Horace and Carlie began their married life and pioneered a piece of property in Vernon County, Wisconsin . Horace felled the logs and built a log home for himself and his new bride. They spent the next 15 years farming.
During the war Horace developed an ailment that caused him to have almost constant diarrhea, that kept him physically drained, as one might expect . Horace needed a different profession and was longing for his old Texas home.
In 1880 Horace, Carlie, children and Carlie's mother all moved to Weatherford, Texas, where Horace worked as agent for Peters Land Colony, Franco Texan Land Company , Texas and Pacific Railroad and was active part in the settlement of West Texas.
On February 13th, 1906, Horace's dear, sweet Carlie passed away as a result of pneumonia. She was buried In Weatherford , Texas . The day after Carlie was buried Horace's mother, Caroline Eleanor Carey also passed away.