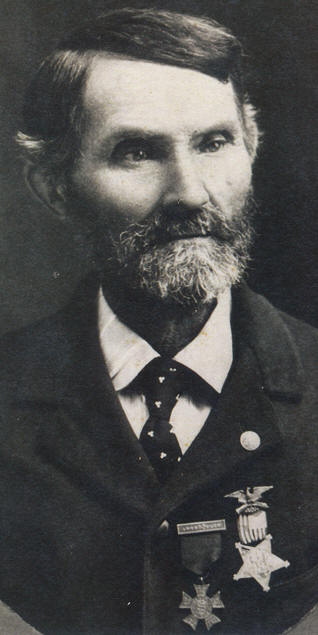 From: The Past and Present of Jasper County, Gen. James B. Weaver, Editor-in-Chief,
1912 B.F.Bowen Co., Indianapolis, IN, page 677
FREDERICK A. RECKLER
Company C, Second Wisconsin
Severe wound, Bull Run, 1861
Honorably discharged on June 28, 1864, Madison

Thanks to Beth Larson
His Great, Great Grand Daughter

There have come to the United States from the German empire and other alien lands men of limited financial resources, but imbued with a sturdy independence and a laudable ambition to succeed, and who have taken advantage of the wonderful possibilities afforded here. Gradually, step by step, they have risen to places of prominence in various lines of activity. Of these there can be none mentioned who deserves more favorable attention than Frederick A. Reckler, for many years one of Jasper county's successful farmers; and who, having by his thrift gained a competency, is now living retired in his cozy home in the city of Newton. He is one of the honored veterans of the great war between the states, having proved his patriotism to his adopted country by gallantly fighting in defense of the Stars and Stripes on many a sanguinary field, and even after being desperately wounded and languishing for months in the terrible prisons of the South, gladly returned to the front and continued to do what he could to save the national Union.
Mr. Reckler was born in Saxony, Germany, November 28, 1831. He is the son of Simon Gottlieb Reckler, who spent his life in Germany, a tailor by trade, his death occurring when his son Frederick A. was nine years of age. The father was in the German army against Napoleon. His wife, also a native of Germany, lived and died there, the subject being the only member of the family to come to America. He grew to maturity in his native land and was educated there. Believing that the new world held greater opportunities for him, he set sail across the Atlantic in 1857, going by way of Liverpool to New York. From there he traveled by rail to Davenport, Iowa, and secured employment on a farm near there. With characteristic German thrift he worked there steadily until the outbreak of the Civil war, when he went to Wisconsin, and on April 22, 1861, only a few days after Fort Sumter had been fired upon, he enlisted in Company C, Second Wisconsin Volunteer Infantry, under Captain McKee. At first he was sent to Washington, D.C., and he was at Arlington Heights for some time drilling; he was then plunged into real war by taking part in the first great battle of the war, Bull Run. During this fierce engagement he received a very severe wound that would have meant death to many another of less hardy constitution. A bullet struck him in the left breast, passing through a small German Testament and on through his body just below the heart, coming out at the back. He still has this Testament, the hole through it bearing grim evidence of the long and dangerous conflict. Mr. Reckler was captured in this battle and for six weeks he lay exposed in a field hospital with scant attention; he was then taken to Libby prison, later to the prison at Salisbury and paroled. Mr. Reckler suffering with scurvy and was very sick of numerous ailments, so he was sent to the military hospital at New York City, where he remained eight weeks, after which he returned to Wisconsin and began farming. But he could not be content to stay away from the front and in October, 1863, he returned to his regiment and, as a private in the Army of the Potomac, he took part in many of the greatest battles of the war, including Mine Run, Spottsylvania and the Wilderness. After a remarkable army record, in which he proved himself to be a fearless and splendid soldier, Mr. Reckler was honorably discharged on June 28, 1864, and he soon afterwards returned to Wisconsin. A year later he came to Iowa, locating near Davenport and there farmed on rented land for five years, then came to Jasper county and bought one hundred and sixty acres in Newton township, in 1869 and here he continued to reside until 1905, when he turned the care of the farm over to his sons and moved to Newton, where he is spending his declining years in the midst of plenty as a result of his able management of the farm.
In 1867 Mr. Reckler was married to Henrietta Jungk, who was born in St. Louis of German parentage. To this union eight children has been born, namely: Mary, Christian and one infant are deceased; the five living are, Fred H., who resides on a farm in Sherman township; Emil is on the farm in Newton township; Henrietta married William Hildebrandt and they live in Arkansas; Lena married Herman Jensen and they live on a farm in Sherman township; Laura married August Schnelle and is living at home with her parents.
Both Mr. and Mrs. Reckler are members of the German Lutheran church. Politically, he is a Republican, and he belongs to Garrett Post, No. 16, Grand Army of the Republic.