Governor Edward Salomon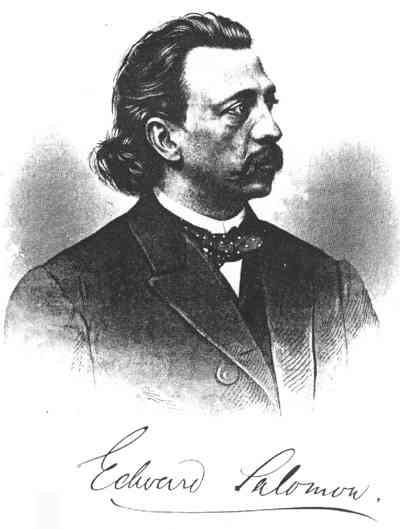 After Governor Harvey made his late night ill-fated attempt to cross from one boat to another while visiting troops along the Tennessee River, Lieut. Gov. Salomon succeeded him. The State Journal described the situation as follows:
Lt. Gov. Salomon
It is a fortunate circumstance that the people last year did, what they have sometimes neglected, and, in selecting a Lieutenant Governor, chose a man capable of discharging the high responsibilities of Chief Magistrate creditably to himself and advantageously to the State.
By the death of Gov. Harvey, Edward Salomon becomes Governor of the State. Though but recently a private citizen, and until the present year entirely inexperienced in the duties of public office, he has acquitted himself as the presiding officer of the Senate in a manner fully justifying the expectations of those who urged his election. We believe he possesses every qualification for satisfactorily discharging the duties of the responsible position to which he is called. He has a firmness of character, clearness of perception, solid, practical good sense, and a character for integrity that has never been questioned. We believe that he will prove a judicious, economical and popular Governor.
Mr. Salomon is a German by birth. He has, however, resided most of his life in this country, is a thorough master of our language, and as a successful and accomplished lawyer is fully conversant with American Institutions and modes of business.
reprinted by Milwaukee Sentinel
April 30, 1862
Gov. Salomon was born August 11, 1828 at Strocbeck near Halberstadt, Prussia, to Christopher Salomon and Dorthea Klussman. He came to Wisconsin in 1849 with a degree from the University of Berlin in Mathematics, Natural History and Philosophy. In 1855 he was admitted to the Bar in Milwaukee and 2 years later was appointed to the Board of Regents of the University at Madison, from whom he receives an honorary Doctor of Law in 1862. He was married in Milwaukee in 1858.
His background was German, Lutheran and a Democrat (until he turned Republican as a Lincoln supporter.) He was chosen for Lt. Gov. on the ticket with Gov. Harvey as a talented man and as a balance to the ticket that would appeal to much of the immigrant population in the election. At the end of his term as Acting-Governor after Gov. Harvey's death, the party did not nominate him in his own right as a candidate which he found quite distressing.
He returned to law in Milwaukee and in 1869 moved to New York City where he continued in the legal profession and became consul for the Prussian government. His wife suffered ill health and returned to Germany where he permanently joined her in 1894. She died in 1899 and he on April 22, 1909. He spent his last years blind and alone and is buried with his wife at Frankfurt-an-Mail.