Wilson B. Colwell
Co.B
La Crosse Light Guards
2d Wisconsin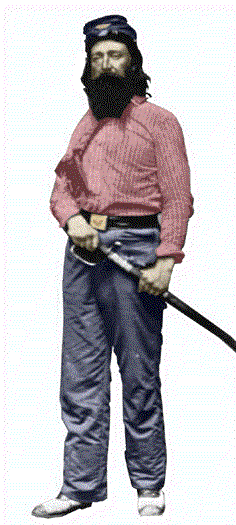 One of the most trusted and admired officers of the Second Wisconsin during the early War, Wilson Colwell was the Captain of Company B, La Crosse Light Guards. This photo, taken at the Brady Studio is more casual than would be expected as his baggage had just been lost at First Bull Run.
He was originally from Kittaning, Pennsylvania and of Scotch-Irish stock was born there on April 13, 1827.
His father, Alexander Colwell, was born in Co. Derry, Ireland in 1784 and came to America to seek his fortune when 18 years of age. He taught school in Centre Co., Pa., after which he became interested in merchandising and the iron industry. He married Margaret Henry of Armstrong Co., Pa. Her family had left Scotland in 1609 for Armagh, Ireland and later to the United States. The had five children, Wilson being the eldest. When Wilson graduated from Jefferson College at Cannonsburg, Pa., he entered his father's iron business.
In 1858, he moved to La Crosse, WI and founded the Katanyan Bank. He became one of the town's leading citizens with deep interest in municipal matters and was elected its 6th mayor in April of 1861. He rejected the honor and chose, instead, to lead the Light Guards to war. Before the war he was a captain in the state militia.
Geo. Otis describes him as " happy, social, genial, large hearted - a friend indeed. ...a general favorite in the regiment. His advice was often sought and freely given. ....In Colwell all recognized fatherly attainments, an excellent advisor, a true gentleman, a thorough disciplinarian and a brave soldier."
He was commanding his company on the skirmish line at South Mountain, MD. when he was killed.
Those that knew the captain often recalled that he loved his pipe of tobacco and remembered fondly his sitting down where a shell hit his company at Blackburn's Ford and lighting his pipe. When the choice of the spot was questioned he stated that it was a good spot as "lightening never strikes twice in the same place.
After Captain Colwell's death, the following was written by one of the men of Co. B.
The Tobacco Road
That is a fine pipe in your hand,
My friend. Is it still lit?
With weichsel stem and silver band-
What will you take for it?
O, sir, you know not how high
This pipe by me is prized,
Or you would never ask to buy
What is so idolized.
He who gave me this souvenir
Now sleeps beneath the sod-
Than he, no braver soldier, e'er
For freedom drew his sword.
Lend me your ear and I will tell
How this hero lost his life;
In freedom's holy cause he fell
'Mid the battle's fiercest strife.
'Twas an evening in September,
When we charged famed "Turner's Pass,"
That we found our brave commander
Lying bleeding on the grass.
A comrade gently raised his head
To see if there was life;
But alas, the vital spark had fled
With his last words, "Oh, my wife!"
Before we ceased our cannonade
Into the South Mountain's door,
A wail went from the Iron Brigade,
Brave Colwell is no more.
This was our gallant hero's name
Who in the van of battle fell,
We'll ever glory in his fame,
And his deeds with rapture tell.
And now while memory shall live
And men with age grow ripe,
All the gold that you can give
Could never buy this pipe.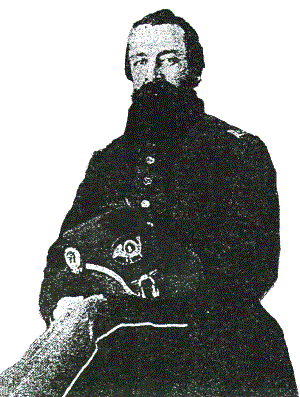 (Captain Colwell had been married to Nannie Hammer of LaCrosse at the Congregational Church in 1858. Her parents were natives of Bedford Co., Pa. and her ancestry traced back to a member of the Pa. Assembly who witnessed the ringing of the Liberty Bell when it announced the signing of the Declaration of Independence. The Colwells had 2 daughters, one of whom, Maggie, died in Washington D.C. before her father was killed and the other, Nannie, who lived at home with her mother. Mrs. Colwell remarried in 1867 to Rev. C. P. Dorset, an Episcopal minister and had 3 more children.
Capt. Colwell's comrades remembered him by naming the LaCrosse G.A.R. post after him.